In this feature, first published in the April 2018 edition of Anglican World, Adrian Butcher meets Phil George, Chief Executive Officer of the Lambeth Conference Company to learn more about the man charged with making it all happen in 2020.
One of the first times I saw Phil George he was on his knees in his office. In one hand, he held a screwdriver, in the other a set of instructions. On the floor in front of him lay sections of a new office chair that he was building.
This encounter was more illuminating than the brief introduction we'd had in his first week. Here was a man not afraid to roll up his sleeves to get a job done, rather than wait for someone else to do it for him. It was a good quality chair too – Phil had seen to that. But he had driven a hard bargain with the suppliers and got it for a discounted rate.
An eye for excellence and prudence is just what you would expect from a man who has spent most of his working life in the corporate world. And something Phil George will need in abundance as he organises the first Lambeth Conference since 2008.
Phil was born in Manchester but raised in Chorleywood, northwest of London. He came to faith there as a 13-year-old in a dynamic Anglican church. He left school to join Barclays Bank and stayed for 26 years before moving to work for New Wine, a UK evangelical church movement.
"I rather glided into banking," he remembers. "Dad was a banker, Granddad was a banker, and so was my best friend. At 17, I didn't know what I wanted to do. But it was a great career. Later, I was involved in human resources project work which involved a lot of international travel. It was fascinating."
So why leave?
Phil recalls how his close friend, Mark Melluish, (who is also now his vicar) came to stay at the family home in 2003 and asked if he was interested in doing something new at New Wine.
"I'd had a prophetic word prior to that, that God had a new and exciting thing for me but I didn't know what it was. When Mark asked me and my wife, Sue, our hearts leapt. We knew this was it."
Phil left Barclays and, over the next 14 years, held a number of positions at New Wine including Head of Operations and Executive Director.
New Wine had begun in the 1980s as a result of Bishop David Pytches' ministry and his relationship with US pastor, John Wimber. In 1989 the first summer conference was launched as a nondenominational Christian gathering for a week in a campsite. When Phil joined, it comprised around 400 churches, most of them Anglican. That now tops 2,000.
"People have described New Wine as a renewal movement which became a network of churches supporting each other and helping people to grow. . . There is a shared belief in core values, including the renewing of life through the power of the Holy Spirit and the ushering in of God's kingdom in every aspect," he explains.
Ask Phil about his days at New Wine and the word he uses the most is "exciting". In his time there, the movement's work mushroomed. The summer conference in south-west England has become a "must" for many churches around the UK. Phil recalls that one parish priest brought his church for many years in a row, camping out – often in the dampest of English summers. Phil didn't get to know the priest then. But they are getting acquainted now: the priest was Justin Welby.
Phil recalls a stream of extraordinary events at New Wine: from excellent Bible teaching to people regaining their sight; self-harming teenagers seeing their scars disappear; people coming to faith all the time.
"Signs and wonder were there every year," he says. "It was amazing."
Against such an inspirational backdrop, why move again at the age of 57? One clue is that he loves change. What some see as intimidating, Phil George finds motivating.
"Last year I did a 'Daniel Fast' – keeping to a simple diet for 21 days. I felt I wanted to sense from God if I should stay."
Within a fortnight, he was approached by a head hunter – his name had come up as a possible contender as Chief Executive Officer for the Lambeth Conference Company. Phil's response was immediate. He deleted the email. He then went on holiday.
On his return, the recruitment company were in touch again. This time things were different. Phil felt interested. He began some research, speaking to friends and contacts.
"Slowly this huge excitement and anticipation began to build as I thought about the possibilities of taking on the job. So I pursued it, had the interview, met Archbishop Justin and had the call asking me if I would like the job.
"In a short time I travelled from not knowing much about the conference to thinking what a privilege it is for me to take on this role for three years. It is a privilege to be here and to serve the Archbishop and to be part of what will be one of the most significant Lambeth conferences ever held."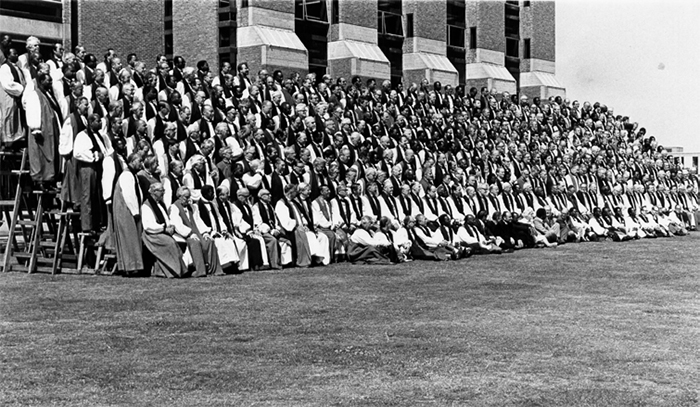 Plans for the conference are beginning to crystallise. The opening in July 2020 may seem a long way off, but Phil is acutely aware that time is tight. Conventional wisdom says the conference CEO needs five years to make it happen. Phil has three. The focus now is on learning from the past as much as planning for the future. A thinktank – the Conference Design Group – began meeting last year to work on devising a programme relevant for a global church in the 21st century. It reports to the Archbishop of Canterbury, who will have the final say on the programme.
Over the spring, Phil has been recruiting a conference manager and a conference administrator. They will work alongside him at his base in the Anglican Communion Office in west London.
"I have spent the first three months trying to understand the scope of the job, what happened last time and preparing a budget. We hope to have some figures by the summer, when the Archbishop's invitation is due to be sent out.
"The complexity of this event is unique. To gather senior church leaders from around the globe brings unique challenges and requires careful and detailed planning."
There will be differences in 2020. Every active bishop from around the Communion will be invited. But there won't be a spouse's conference running in parallel. Instead the intention is to run a joint conference.
"We see that bishops and their spouses often have a joint ministry so we want to equip them both, rather than separate off the spouses," Phil explains.
As I interview him, Phil is preparing to attend a regional primates' meeting Fiji at the end of February. He will attend two more this year – in Kenya and Canada – and two in 2019. Each is an opportunity to talk to primates about the conference and get their feedback on what is being planned.
The Lambeth Conference of 1920 was a significant one. It brought together churches from across a world still reeling from the First World War to refocus and reunite the Communion for the 20th century.
One hundred years on, Lambeth 2020 will meet under the title "God's Church for God's World". Phil's hope is that it will also have a positive global impact.
"We haven't just come out of a world war but there is difficulty all around the communion – and there are wars of different sorts: poverty; people trafficking; slavery. We will need to navigate our way through the issues we face at the moment so that the Anglican Communion is a viable, influential and impactful group of people around the globe for the 21st century. It's going to be exciting."